Non-Surgical Rhinoplasty
Jump To:
At our practice in San Jose, nonsurgical rhinoplasty has become one of our most popular procedures. If you are unsatisfied with the appearance of your nose like many others but are too reluctant to go under the knife and undergo surgery to achieve the contoured nose that you desire, there is now a revolutionary and non-invasive option available to you with non-surgical rhinoplasty.
What Is Non-Surgical Rhinoplasty?
Non-surgical rhinoplasty, also known as liquid rhinoplasty, is a minimally-invasive procedure that can alter the shape of the nose to improve facial harmony.
With non-surgical rhinoplasty, our team applies their expertise and experience in cosmetic enhancement procedures to resculpt the nose using injectable fillers such as Juvederm or Restylane.
Fillers can disguise many unwanted contours of the nose without the need for incisions or a lengthy recovery period. With non-surgical nose contouring our team can:
Augment the tip of the nose
Add volume to improve overall symmetry
Minimize the appearance of bumps on the bridge of the nose
The Non-Surgical Rhinoplasty Procedure
Non-surgical rhinoplasty is a quick procedure. Our team will inject dermal fillers as needed to add volume, lifting, or contouring areas of the nose to resolve your cosmetic concerns. The injections involve minimal discomfort, though you can choose to have a topical anesthetic applied to ensure that you are comfortable during the treatment.
Another method known as a Thread Lift can also be incorporated in order to achieve optimal results. The thread lift works by utilizing absorbable sutures, made from biodegradable polymers to lift and tighten the appearance of the skin in the visible treatment area.
You will be able to return to work and your normal activities the same day as your non-surgical rhinoplasty. Some tenderness and redness may occur after the procedure. You can expect to see your new nose contours within two weeks.
Non-Surgical Rhinoplasty vs. Rhinoplasty
There are advantages and limitations to both types of rhinoplasty. Surgical rhinoplasty requires significant downtime but provides long-lasting results. Surgery is not the right choice for everyone, and not every patient is comfortable making a permanent change to their nose. For patients who do not want to have a surgical procedure and are willing to have periodic treatments to maintain results, rhinoplasty with injectables can be a great alternative.
Benefits of non-surgical rhinoplasty include:
No lengthy recovery
Quick results
Minimally invasive
"
Dr Lay is the only doctor that I trust. I came to him years ago, had a super fast recovery, and still now continue to fly to San Jose every year just to see Dr Lay. In a world full of indifferent doctors, Dr Lay stands out from the rest and is both honest and genuinely cares about his patients. He never upsells and only does the most natural work. You can trust your face in his hands!
Who are the Best Candidates for Non-Surgical Rhinoplasty?
Those who are unhappy with the appearance of a bump on the bridge of their nose, or those interested in making their nasal tip appear more prominent may be suitable candidates. However, the best way to determine If you qualify as a candidate is through a consultation with a medical professional.
When meeting with you in your consultation, Dr. Lay will learn about your treatment goals and medical history, as well as examine your nasal structure. He will make sure you understand your rhinoplasty options so you can make an informed decision.
How Much Does Non-Surgical Rhinoplasty Cost in San Jose?
The cost of our San Jose nonsurgical rhinoplasty is best discussed during your consultation. All patients are different, and the procedure is designed with each patient in mind. During your procedure, we'll be able to answer any questions, provide our recommendations, and give you a full breakdown of how much your non-surgical rhinoplasty will cost.
Why Choose Us?
We firmly believe in the patient experience, delivering top-of-the-line communication and results for our patients.  From the moment you walk through the door, we'll sit down with you to help decide what the best procedure for your aesthetic desires is. Our Medical Director, Dr. Chase Lay has performed over 5,000 medical procedures and believes in continued education to ensure we are on the cutting-edge of cosmetic surgical and nonsurgical treatments. To view what our patients are saying about us, check out our RealSelf page.
Schedule Your Consultation
If there are qualities of your nose that you would like to change without the seriousness of a surgical procedure, maybe it's time you consider our San Jose non-surgical rhinoplasty. Reach out to us here at Chase Lay, MD, and speak to one of our caring professionals about our many treatment options. Contact us today and schedule your consultation!
Before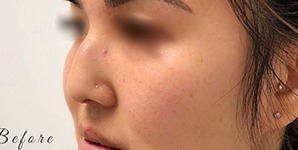 After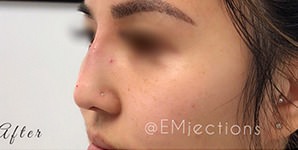 Dr. Ishiyama and Nurse SieYeon's PDO Threads Experience
Non-Surgical Rhinoplasty Videos