Emsculpt
Conveniently located to serve San Jose and San Francisco
At Chase Lay MD, we provide EmSculpt to San Jose patients looking to tone muscle and reduce excess stubborn fat. This non-surgical and non-invasive body contouring option is gaining in popularity.
Are you unhappy with stubborn fat that won't respond to diet and exercise? Are you experiencing unwanted bulges in common problems areas of the body? Losing weight is a struggle for many patients who are working hard to achieve a slimmer and contoured body shape. However, many experience stubborn fat that won't respond to diet and exercise.
If you are searching for a reliable remedy for diminishing problem fat, while also enhancing muscle definition, the revolutionary EmSculpt system could be the solution you have been searching for.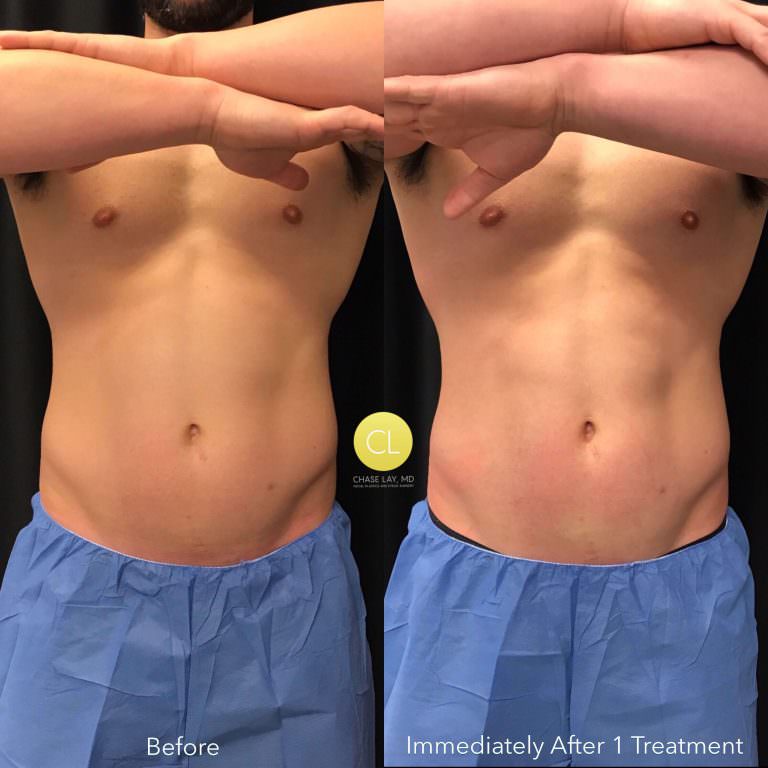 This is a before and after photo of a male patient in his late 20s showcasing his results after just one session of EMSculpt to his abdomen. The patient has an active lifestyle and coaches his clients at Orange Theory Fitness a couple of times a week. Optimal results are usually seen a month after 4 sessions of EMSculpt, and because he workouts regularly, his muscle definition was more immediate.
What is EmSculpt?
The EmSculpt system is an advanced and non-invasive treatment designed to eliminate stubborn fat from the body, while also increasing muscle mass and definition within the treatment area.
EmSculpt technology utilizes the power of HIFEM  (High-Intensity Focus Electromagnetic) energy, to successfully smooth away unwanted bulges in a quick and non-invasive way. The specialized energy is so effective because it causes extreme muscle contractions that build and sculpt the underlying muscles. With this innovative treatment, you can achieve the sculpted and slimmer physique you desire.
How Does EmSculpt Work?
During an initial consultation with one of our specialists, a personalized treatment plan is created- tailored to your specific needs and aesthetic desires. During treatment, the EmSculpt scope device is held to the targeted area. The system works to emit HIFEM waves- delivered beneath the surface of the skin.
Once delivered the energy targets and penetrate the underlying muscles. The muscles respond to the energy by performing super maximal contractions. Super maximal contractions are similar to the ones you perform during vigorous activities. Thousands of these muscle-building contractions are performed in a short amount of time, which is effective at not only burning fat, but also improving muscle mass.
What are the Benefits of EmSculpt?
There are a variety of benefits that this cutting-edge treatment can offer including:
Eliminate stubborn fat
Tighten skin
Increase muscle mass
Contour and tone body shape
Non-invasive
No required downtime or recovery time
This is the perfect treatment for both men and women who are searching for a solution for eliminating their unwanted bulge for a more toned and tight physique.
How Much Does EmSculpt Cost in San Jose?
The price of EmSculpt in San Jose varies from practice to practice. The overall cost is affected by factors like the total number of treatment sessions required and the areas being contoured and toned.
Schedule Your Consultation
With the revolutionary EmSculpt system, patients struggling to get rid of stubborn and unwanted fat can finally achieve the contoured silhouette they desire. Reach out to the professionals here at Chase Lay MD to learn more about EmSculpt in San Jose. Contact us today and schedule your consultation towards a slimmer and toned you!